Parisian Inspiration in Saint Germain Area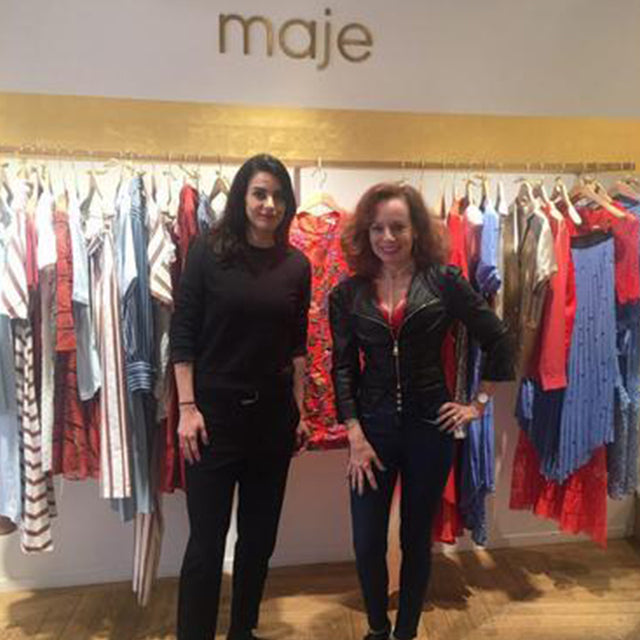 Inspiration is everywhere!!! Especially in Paris.  On a recent Parisian adventure, Emery (my wonderful husband) and I stumbled upon a hotbed area of Parisian fashion designers with their shops lined up wall to wall on a number of streets within the Saint Germain area of Paris.  This is as about as exciting of a find that a new US designer with a new US Trademark for her fashion line could find.  In this featured picture, I am on the right side facing you, the observer,  and the Parisian stylist, Judith, stands on the left as you directly view the photo.  This designer, maje, started her line at least 20-years-ago in Paris.  Her website shows 541 stores worldwide and stores in Canada, the US, and Mexico.  I had no idea that this designer maje was so large, and  I honestly must say, with embarrassment, that I can't recall hearing the name maje before.  With Judith's assistance and Emery looking on, I ended up purchasing two outfits and a belt. One garment was a very summer Parisian, silk, off the shoulder midi dress with a flowing style, and the second garment was a wonderful one piece jumpsuit also in a Parisian, lightweight summer fabric.  The belt was a wide, black, wrap belt to tie around my waist with both outfits.  Judith and I exchanged contact information and she gave me a short history about maje.  I will visit Judith on our next Paris trip.
We also stopped at the store of a Parisian designer called Claude Pierlot, where I also gave in to my fashion addition, and purchased a lightweight, summer romper all designed in  Paris fashion of course.  The photo of the silver shoes I've attached worked perfectly with the romper I purchased and they looked way more awesome on my feet than one would think.  I didn't purchase the silver shoes, but they definitely have Parisian style written all over them because of the design of  being a stylish, Paris walking  shoe.
Hence, mes amies, I found beaucoup inspiration from a designer viewpoint in Paris.  Even though we did not visit any island-type clothing stores that resemble my line called Turtle Cay Island Wear, I found renewed hope that the possibilities are endless for new designers.  One must stay persistent, focused, and develop a repeat client base.  Fashion design really all started in Paris.  Paris has been the hotbed of fashion designers for so many years.
Bonne journee,